Curriculum

---
The workshop
"HOW TO VIDEO ?" is a workshop designed for those looking to enhance their artistic and
educational projects with audiovisual media on a budget. The workshop will cover the basics
of video production and podcasting, from creating content to publishing and marketing it for
maximum impact.
Participants will learn how to draw inspiration from a variety of sources and connect with their
audience through effective storytelling. They will also gain knowledge on the technical aspects
of producing high-quality audiovisual content on a budget, including using mobile phones and
pre-installed programs to create content efficiently. The workshop will provide a "Podcasting
Starter Pack" and a "YouTube Starter Pack," as well as a "Social Media Starter Pack" to help
participants get started with creating and publishing content.
Hygin Delimat
Choreographer, performer, curator, lighting designer, cultural producer, video maker and
photographer. Artistic director of Body Architects, Mind Culture Podcast and Craft
Choreography.
He received academic degrees in movement research (M.A.) and dance pedagogy (M.A.)
at the Anton Bruckner University in Linz. As a dancer he has worked with various international
choreographers, including Rose Breuss, Elio Gervasi, Georg Blaschke, Willi Dorner, Johanna Roggan,
Robert Clark, Liv O'Donoghue, Juliette Villemin and Matjaz Faric. He was a recipient of
the DanceWEB 2013 grant and has had many influential mentors on his artistic journey,
including Rui Horta, Martin Sonderkamp and Ivo Dimchev. For his choreographic work, he has
enjoyed numerous artistic residencies in Europe as well as in El Salvador, Mexico and Uganda.
Hygin enjoys collaborating with artists from various fields, including contemporary composition,
visual arts and new media (e.g. Austrian Apparel, Hannes Kolb, and others): Austrian Apparel,
Hannes Kerschbaumer, Alex Chernyshkov, Mari- na Poulekhina, Ivan Shopov, Polina Stoyanova,
Florian Voggeneder, Andreas Buttinger, Schayan Kazemi).
In his movement research he integrates approaches and philosophies of somatic methods and
urban dance styles.
Workshop : "sevengardens"
Croatian Artist Milica Reinhart Tešanić invites on a journey through the beautiful world of
creating color in nature. In the "sevengardens" workshop you will be shown ways of extracting
color from plants like cabbage and beetroot for use in art. Learn from examples, mix and
experiment, nature is your paint and canvas!
Join us and test positive for the art virus!
Milica Reinhart Tešankić
Born in Đakovo, Croatia / live and work in Ernestinovo, Croatia
Long active in conceptualizing and presenting national and international artistic projects. The
educational and artistic creativity programme has encompassed a high number of children,
youths, women and members of marginalised groups of all ages and ethnicities. Employed
numerous techniques over many years of international activities.
Launched the "Ernestinovo Small Academy of Arts" project in the interest of solving problems in
her community. The intention is to facilitate the personal development of children who are
deprived due to their social status and remoteness from the region's large cultural centres
through artistic and social activities.
The workshop : "Improvisation"
Improvisation is a common practice in the learning and creative processes of contemporary
dance.
The art of improvisation is transposed to everyday life for everyone, and for the most
adventurous, can become an art of living.
The relationship to the immediate geographical, social, cultural and sensory space is at stake
here and implies an openness to the to the unknown as a motor of movement.
Vigilance, patience, spontaneity/sincerity, liveliness, bounce-back, even virtuosity, inspiration
are qualities that the improviser calls upon in the "game" of life.
The structure
La Galerie Chorégraphique is an international artistic production office specialized in the
contemporary dance sector since 2001.
Its Danses & Territoires programme aims to make choreographic works accessible to as many
people as possible the works of choreographic creation and to encourage encounters
between artists and audiences who are far from artistic and cultural offer.
With the contribution of its five associate artists and their respective teams, it develops
cooperations and international cooperation, particularly in the framework of partnerships
supported by the European Union.
---
The workshop
Together we'll discover the Laban movement analysis to generate, shape, remember,
compose, observe and reflect dance. You will first get an introduction to the 6 parameters,
then a space and time for improvising together.
Jacqueline Fischer
Choreographic director of Theater der Klänge – Artist working within school programs, Leader
for dance projects for the Mercator & Menuhin Foundation and Heinrich Heine University.
Studied contemporary dance and performed in Greece, France, Switzerland, Austria and
Germany. Acquired a pädagogical qualification, led dance projects for AUL, IJAB, DGJW and
IJAB.
---
The Workshop
The Workshop will be based on preliminary work of Zhineng Qigong (the Qigong of Wisdom)
specifically the technique called: La Qi Guan Qi Fa (method for expanding and thickening
energy) which enables participants to experience the concrete perception of energy as
substance, and creates the preconditions for listening to subtle perceptions, promotes the
resolution of all tensions both at the joint, muscular and mental levels.
After more than two years of pandemic people need a loving contact with themselves and
then with others, the distance and forced isolation we have endured have been the source of
enormous stresses that affect our memory and our lives, never before has the experience of
dance been able to make a huge contribution to the return to normalcy and perhaps much
more.
All the experiences and proposals of movement and improvisation will be reinvested in danced
movement in a pleasant and progressive crescendo of choreographic material related to
contact improvisation.
The conductor
Choreographer, dancer, teacher, creator of the Danza Movimento Naturale method, trained
at the National Conservatory of Music and Dance in Boulogne Billancourt (Paris), and in June
1999 he obtained a French degree from L' R.I.D.C. (rencontres internationale de danse
contemporaine founded by Françoise and Dominique Dupuy and directed by Brigitte Hyon)
becoming a professor of contemporary dance.
He is Qigong Operator with national diploma issued by CSEN; Qigong Operator and teacher
FISTQ (Italian Federation of Tuina and Qigong Schools); 2nd level Taijiquan Chen style instructor
and student of Master Wang HaiJun (12th generation of the style).
Creator and promoter of the Choreographic Center L'espace of which he takes care of the
artistic and pedagogical direction and director of Festival Internazionale Dissidanza.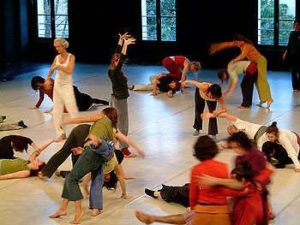 ---
The workshop : "ART ID inside ME & Trust Building"
Concept and running: Agata Życzkowska
Everyone has a little bit of the artist inside themselves. The important thing is to be able to find
your place in the group. In this workshop, Agata Życzkowska invites you to recognise yourself
through a short performance and then to come together as a group through movement,
voice, integration and poetry exercises.
Agata Życzkowska
Choreographer, dancer, actress and the president of the 'NEW WAVE' Foundation in Warsaw,
under whose wings she has implemented over 40 artistic, educational and social projects. She
took a part in the Polish version of the performance "The SHOW MUST GO ON" chor. Jérôme Bel.
She runs HOTELOKO movement makers collective. They received the jury award "Coup de
Coeur" for the originality of the performance "Absolutely Fabulous Dancers" at Quartiers Danses
Festival in Montreal. Currently she cooperates with dancers Mirek Woźniak and Karina Szutko.
The artists creates projects touching upon topics such as community, freedom, gender
equality, tolerance, ecology, human rights and education.
Project « Viral Visions – deconstructing art immunity" funded by the European Commission
through the Erasmus+ Programme
Partners: Arbeit und Leben DGB/VHS NRW e.V. Düsseldorf, La Galerie Chorėgraphique
Carcassonne, L'espace ASDC & Zappulla DMN Company Palermo, Fundacja Rozwoju Teatru
'NOWA FALA' & HOTELOKO movement makers-Warsaw, THEATER DER KLÄNGE / Düsseldorf,
Body Architects – Spartenübergreifende Interdisziplinäre und Bühnenkuns – Vienna, Mala
akademija umjetnosti Ernestinovo.